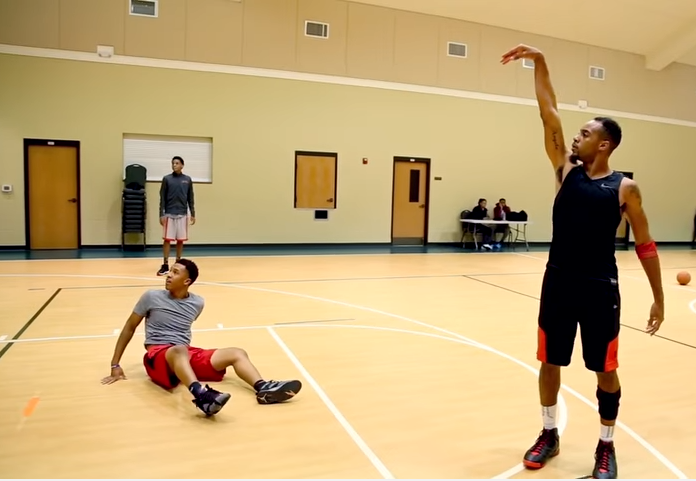 Brandon Armstrong (or BdotAdot5, as the internet sensation is more commonly known) has saved the best for last… well first actually.
The former pro baller, that rose to internet stardom via his 'Be Like' impersonation videos, has rung in the New Year with a fresh new video. 'MJ Be Like' is 2+ minutes of comedic gold, a glorious ode to Michael Jordan and is exactly what you have been waiting for. Watch.
It seems Armstrong has taken his video game up a whole 'nother level. Moving production from the black top of his Uncle's driveway in suburban Atlanta, to a sweet looking private gym. This time around, he and his production team splice in footage of some of MJ's greatest on court achievements, Armstrong mimicking them perfectly in the manner that his fans have come to expect.
No one is safe. From the baseline turnaround drive and dunk over the '91 Knicks, to the crossover (*ahem* push off) jumper over Bryon Russell. Even Jordan's UNC alum Jerry Stackhouse gets the royal treatment.
Any basketball fan who has spent hours on YouTube devouring videos of the former Chicago Bull superstar's amazing feats, will know there are countless videos of Jordan on offer. What sets this one apart from the crowd, is Brandon Armstrong's flair for the dramatic, comic timing and that he doesn't take matters or himself too seriously.
And yes, that's the Quad City DJ's 'Space Jam' you here at the tail end.
Keep the good times coming, Bdot.
BONUS
This timeless D. Rose video from Armstrong's IG account was too good not to include. Pau Gasol got next perhaps?
Derrick Rose Be Like… pic.twitter.com/uRjBxnFZz1

— B.A. (@BdotAdot5) May 14, 2015