Like a majority of NBA players, Derrick Rose has quite the collection of tattoos. His collection includes the Chicago skyline and basketball on his hand, God's Child written across his shoulders and of course the Poohdini wizard on his upper arm, among others.
Yesterday he returned to Shred's Inferno, the Westlawn tattoo studio where he's had majority of his artwork done. This is also the same studio that is owned and operated by my good friend Dave 'Shred' Kunesh who has also inked me on my previous trips to Chicago.
As you'll see below Shred added a portrait of Martin Luther King to Derrick's collection, which is an accompanying piece to the previous Malcolm X work (see below) Derrick had done some time ago.
Both are brilliantly accurate portraits that perfectly capture the characteristics and physical attributes of the leader of the African-American Civil Rights Movement and the Muslim minister.
After the session was over Shred captured the moment on film and took to facebook earlier day to share.
Great stuff guys.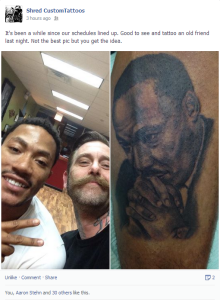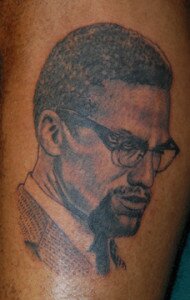 All photos courtesy of Shred.