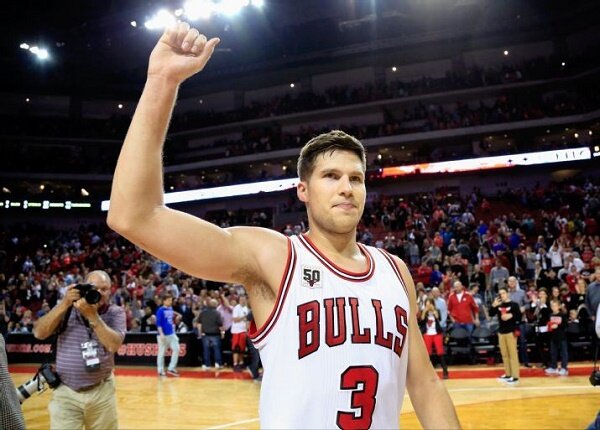 By Sherron Shabazz
Doug McDermott can score. That's how he earned the nickname "Dougie McBuckets". It's also why the Chicago Bulls traded two first round draft picks to the Denver Nuggets to acquire McDermott in the 2014 NBA Draft. McDermott, is the NCAA's fifth leading scorer with 3150 points scored during his four seasons at Creighton.
McDermott's pedigree made people wonder why he didn't get much playing time during his rookie campaign. Contrary to popular belief, former Bulls head coach Tom Thibodeau was on board with acquiring McDermott last season, but Thibs isn't exactly fond of playing rookies. In Jimmy Butler's rookie season he played just eight minutes per game and averaged 2.6 points.
Dougie was going to have to wait.
Thibodeau's refusal to rely on his bench played a part in his departure from the Windy City. The transition from Thibodeau to Fred Hoiberg opened the door for the Bulls' young prospects, including McDermott, to get more playing time. It's still early in the season, but McDermott has answered the bell.
McDermott's minutes have more than doubled and his points per game average has tripled. He's shooting 50% from the floor, 51% from behind the three-point line, and averaging 10 points a game.
Essentially a glorified rookie, McDermott still has a lot to learn. He's slow on defense and struggles to move his feet against average offensive players – but he's showed signs of improvement.
The Iowa native is the perfect complement to the driving games of Jimmy Butler and Derrick Rose. Dougie also gets plenty of open looks thanks to the post game of Pau Gasol and offensive rebounding of Joakim Noah. McDermott just might be the future go-to scorer for the team that Michael Jordan made famous.
Sherron Shabazz: You made your first NBA start against Oklahoma City, what was it like for you to be in the starting lineup?
Doug McDermott: It really doesn't matter to me. I just want to contribute to winning. We're trying to get used to playing with different lineups. It's always a challenge. I think we'll get it figured out.
SS: Is your preparation different starting versus coming off the bench?
DM: Not really, no. You don't get that time to sink into the game, take in the atmosphere, and see what the opposing team is doing. If you get it going early the momentum kind of leads you the rest of the game.
SS: Last season you didn't play much after the knee surgery. Did it hurt your confidence at all sitting on the sidelines?
DM: No. Obviously it hurt not being able to play. It's the first injury I really ever had. It's unfortunate that it happened. I feel like it was a blessing in disguise because I learned a lot about the game during that time period.
SS: How does it feel now to get the chance to show people what you can do?
DM: It feels good. I feel like I'm playing well offensively. Obviously I need to get a lot better on the other end of the floor, rebounding, and doing other things I feel like I can do a lot better – which I will. It's early in the year. I'm excited to get better and improve.
SS: Is there a certain aspect of your game that you're working on right now?
DM: Honestly, everything. I kind of have the same routine every day – a lot of film, being aware of tendencies that people have that I'm going to be guarding. Offensively it's just getting a lot of shots up, but also trying to work on my handling and passing because eventually people are going to run me off the line and I'm not going to get as many open looks. I'm going to have to figure out ways around that.
SS: You worked out with Jimmy over the summer. What were those workouts like?
DM: They were good. Obviously playing against Jimmy every day is a good workout in itself. I'm going against probably the best defender in the league. It's real competitive and we had a great summer.
SS: Coming from Creighton, what's your relationship like with Kyle Korver?
DM: It's great. We talk probably 5-6 times a year. We text a lot. We don't see each other a whole lot because we're on different teams. He's a great guy to lean on if I need advice. He's a great guy to look up to. He's had a really good career and they're off to a really good start.
SS: What are your personal goals for the season?
DM: I don't really have a whole lot of goals for myself this year. It's kind of a weird year just because I came into the season really not knowing what to expect. My goal is just to contribute to winning. I really want to win a championship and I feel our team is capable of it. We're obviously getting used to a new system and a new coach. We all love him to death and we'd go through a brick wall for him. We're just going to continue to fight.
SS: What's the toughest part about adjusting to the new coach and the new system?
DM: For me it's really not much different from my rookie year 'cause I didn't get to play a whole lot last year. I really was never fully adjusted to that system so now is kind of like a fresh start. Some of these guys played under Thibs a little longer so it's basically more of an adjustment. For me, I feel like I'm kind of a rookie again 'cause I really didn't go through a whole lot last year.
SS: What do you make of the defensive struggles that the team has had early on in the season?
DM: I'm a big part of it. I got to look myself in the mirror and figure out what I can do better to help our team. Obviously we all have to get better. It's a team thing, it's not one guy. We all have to talk more. We have to be there for each other. We have guys on this team that have been around a long time and I'm sure we'll get it figured out.