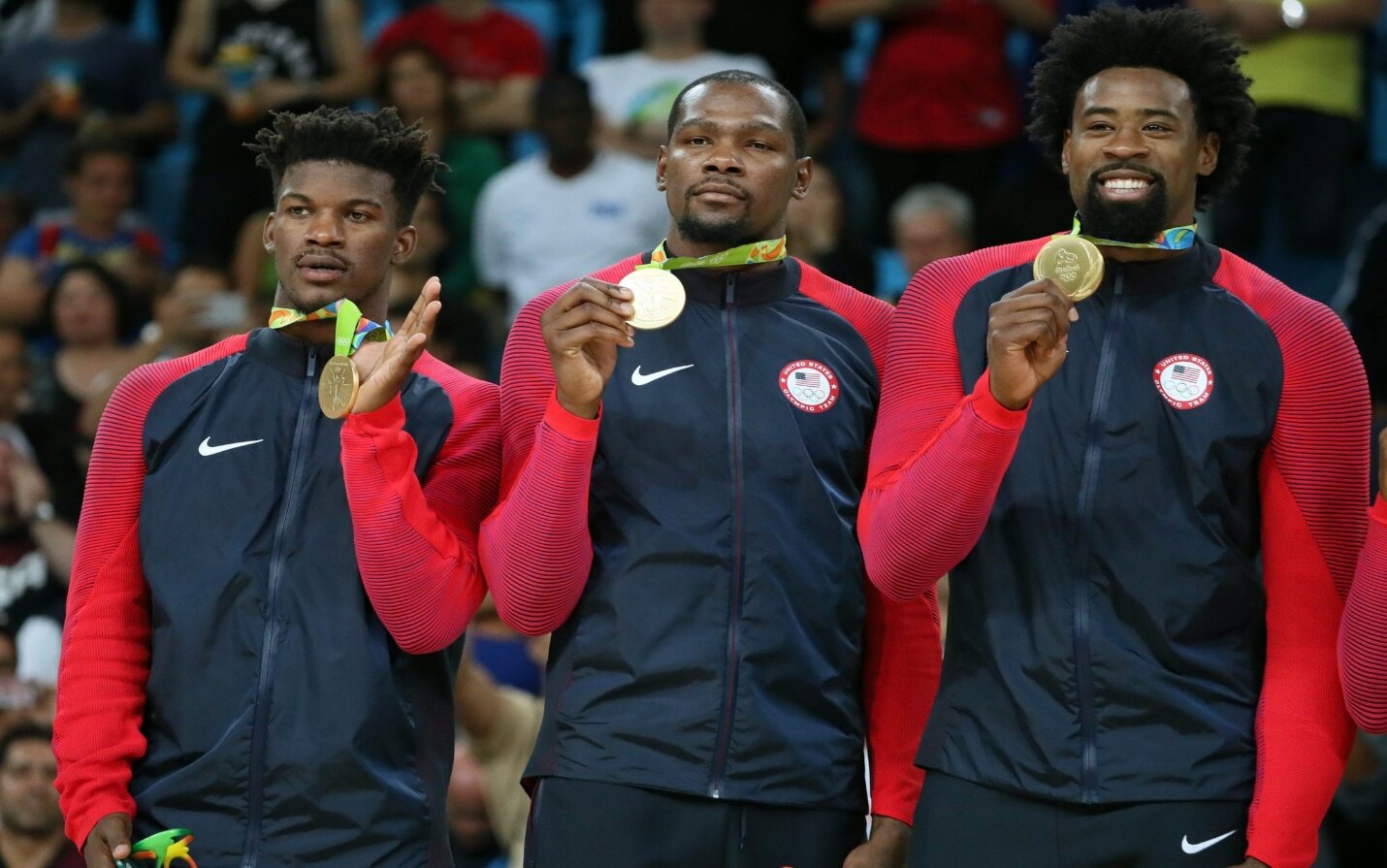 Jimmy Butler, Kevin Durant and Deandre Jordan showing off their gold medals.
by Raejhon Johnson
From a homeless Texas teen to the 2015 NBA's Most Improved Player, and now an Olympic gold medallist with Team USA. It might have not been one of the best years for the Chicago Bulls, but basketball never stops and nor with it the meteoric rise of Bulls star Jimmy Butler.
Even with the offseason move that sent Derrick Rose to New York, bringing in return a batch of new teammates for Butler, namely Rajon Rondo and Dwyane Wade, then being a part of a team loaded with some of the biggest superstar names in the NBA, one got the feeling that Butler felt comfortable and at home with his new Team USA teammates.
"There are a lot of great players on this roster, but more than just basketball players, I get to learn a lot more about them off the court," Butler said, "who they are as people and their families, and how they act, their personalities. I think that's been my favourite part of this whole journey, just getting to know the guys that I go up against every year."
It only took an 80-45 win against Venezuela, at the United Center for Butler to show his goofy side when soon after videos surfaced of DeMarcus Cousins and DeMar DeRozan featuring Butler having a sing along with Kyrie Irving of a classic pop hit "A Thousand Miles". When Carmelo Anthony decided to join the fun by creating a snapchat account, some of his initial snaps brought Team USA's goofiness to light, making fun of Jimmy Butler's hair and revealing his fear of water were two of the more memorable moments.
@jimmybutler back at it…. Looking like Willie Beamen
In the later stages of the games, Butler claimed he could take Demaryius Thomas and Antonio Brown spot in the NFL. He doubled down on the claim that he could be a great wide receiver in the NFL when asked what NBA player could be a dominate player in football. "Me. Like, I'm very serious," Butler said. "I think if you were to ask people that aren't haters, which everybody on this team is, it would be me because I'm fast and I have great hands. I can really catch." His teammates responded, "He's an idiot" said Kevin Durant.
Jimmy Butler says he's so good at football he could start at wide receiver in the NFL

Team USA Teammates roast him?https://t.co/lfyxMgwbqP

— Bulls On Parade (@ChiBullsLife) August 21, 2016
All jokes aside, the goal was to take home gold, as stated by Butler himself. He wasn't alone going into USA Basketball though, as he was reunited with his former Bulls coach Tom Thibodeau, who was seated on the sidelines (for a change) as an assistant coach for Team USA.
"To see how much he's grown from his first year in the league to what he's become, it's a testament to how hard he's worked, his intelligence, his drive," Thibodeau said. "Each year he's gotten better, and I think his makeup will allow him to continue to improve each year."
Butler has shown much improvement in his time with the Bulls, but not so much for Team USA. In his role off the bench, Butler at times was able to impact the game defensively; however his shooting percentage (34%) left a lot to be desired. Given the situation, the team minded Butler seemed comfortable with mainly focusing on the defensive end.
"Right now, we have so many great scorers on the team that I actually like picking up full court and guarding people like that because it takes me back to my rookie year when I could just play defense," Butler said.
For the most part, Team USA dominated in the Olympics; there were a couple of close games, but the talented roster always had players ready to rise to the occasion. Butler also had some playful back and forth via instagram with his Bulls teammate Nikola Mirotic who was playing for Spain.
Team USA ended up beating Spain 82-76 in the semi-final, despite the efforts of former Bull, Pau Gasol. A gallant effort from the Spaniards couldn't overcome the talented USA squad, who advanced to the gold medal game against Serbia.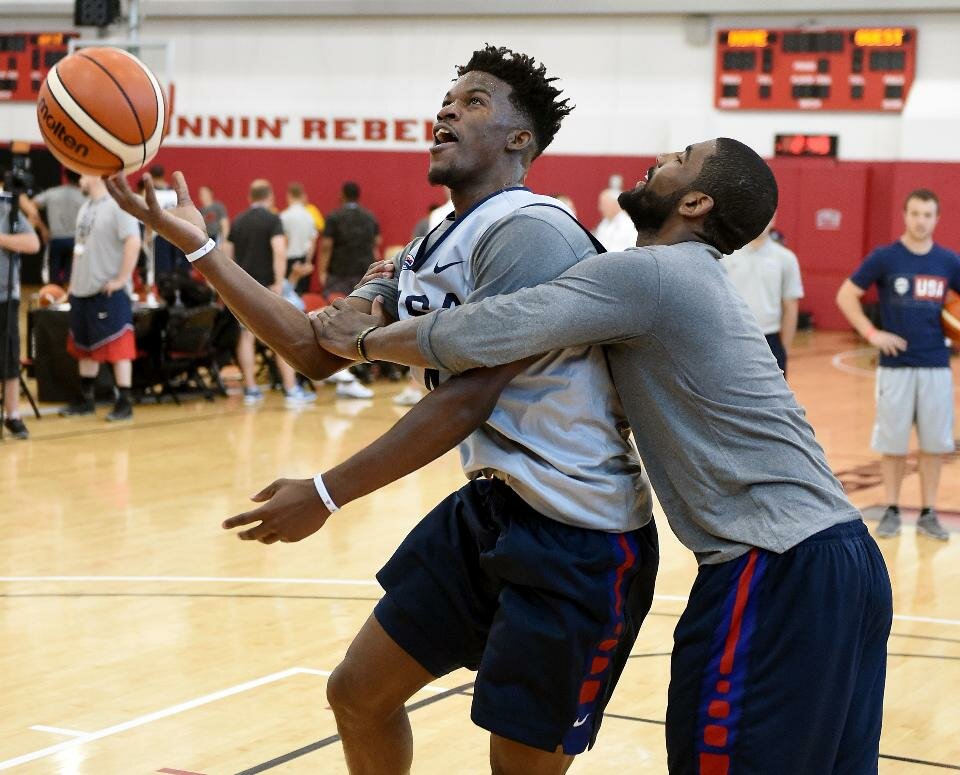 Butler showed out in a lot of the practice drills and games, winning a 3 point game called 'Bank', dominating with Kyrie Irving in one on one practices and quick offensive drills; however he wasn't able to put much of that to use on the floor.
In the final game against Serbia, Butler again failed to contribute much offensively, scoring only 2 points to go with 5 rebounds in 14 minutes of play, but he impacted the game with his defense and Team USA dominated with a 96-66 win against Serbia. Butler went on to become the third active Chicago Bulls player with a gold medal, joining some elite company Michael Jordan and Scottie Pippen. He also became the third Marquette alum to take home gold, joining his new teammate Dwyane Wade who took to twitter to congratulate him.
Also big Congrts to my bro @JimmyButler … Another GOLD for @MarquetteMBB

— DWade (@DwyaneWade) August 21, 2016
Butler was also able to share some of his jubilation of moment in celebration with his mentor and former coach, Tom Thibodeau.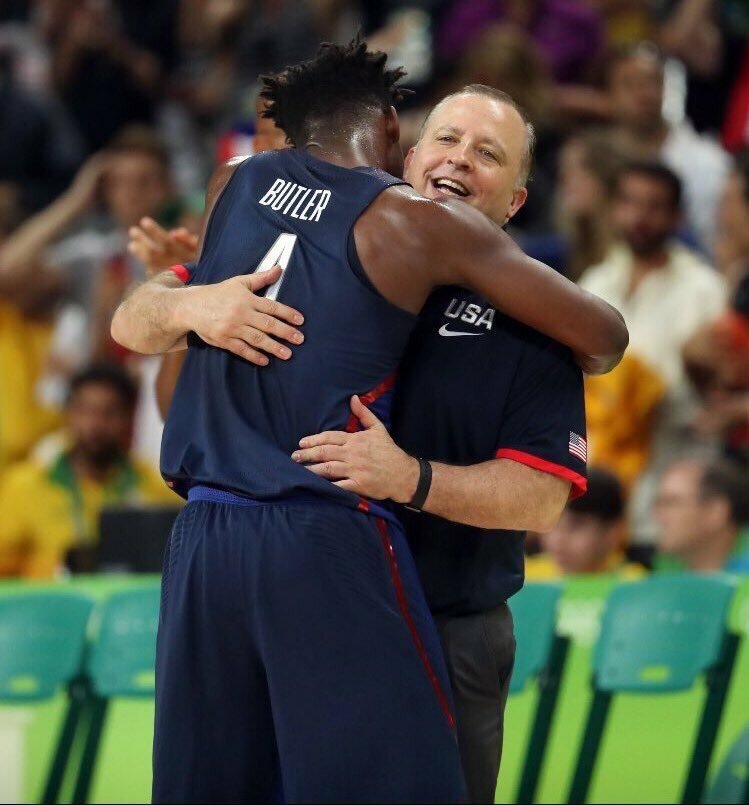 "It's a moment, man. As much stuff as we went through, as much of a love-hate relationship as we had and still have, its big." said Butler "He was always telling me I could be a special player after my rookie season when he thought I was terrible, of course. But I've got love for Thibs, A lot of love for Thibs."
As Butler reflects on his Olympic journey as a learning experience and prepares for the season ahead with the Chicago Bulls and especially his new teammates Rajon Rondo and Dwyane Wade, knowing how to impact the court without having to lead the team will likely give Wade and Rondo opportunities to take over the game if called for.
With the Bulls adding more talent to their team, fans can only hope being an Olympic champion won't be the only championship title Butler adds to his resume.