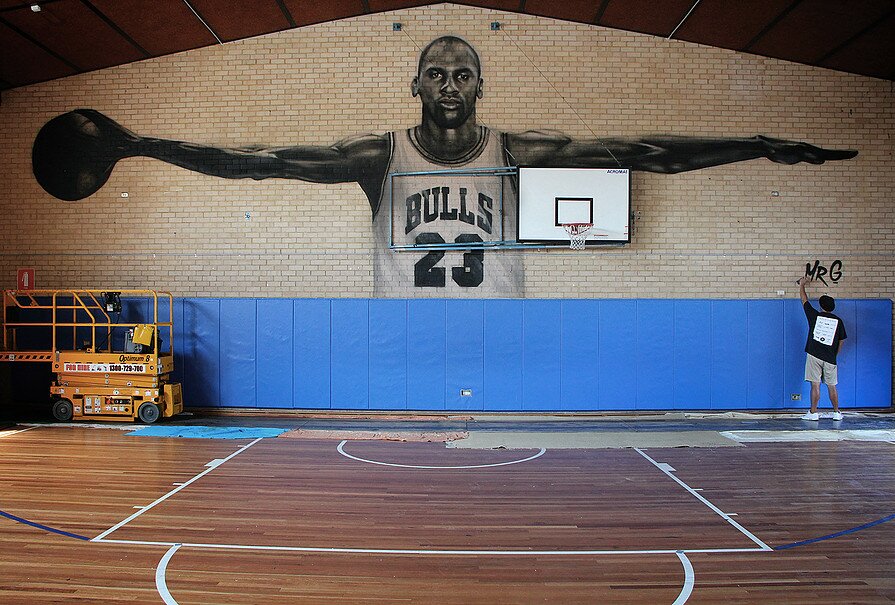 Muhammad Ali, Prince, Michael Jordan.
Three names that are instantly recognisable. Sydney based artist, Mr. G isn't a household name just yet, but his work is certainly making people take notice.
Originally from New Zealand, Mr.G (otherwise known as Graham Hoete) has become renowned in Australia over the last few years for his giant wall murals, but recently his work has gone global. When pop icon Prince passed away on April 21st, three days later G was putting the finishing touches on a heartfelt tribute to one of his favourite artists. The piece soon spread like wildfire on the web and soon news outlets from around the world were featuring it on their broadcasts.
As a result of his success, G received requests to paint a similar mural of Prince in his hometown of Minneapolis. Such a project would need funding, so G put the call out via his facebook page seeking sponsorship. Some organisations answered and calls were made, the wheels were in motion. In the weeks ahead, G stayed busy, following up his Prince piece with a variety of projects and then another hero of his passed, Muhammad Ali.
With the trip green lit and while he mourned the champ with the rest of us, G once again put the call out via his facebook page in the hopes of securing a wall to dedicate a mural to Ali in his hometown of Louisville, Kentucky. In the meantime, the talented artist was also able to secure a wall locally in Sydney to spray paint this tribute to the greatest boxer of all time.
R.I.P MUHAMMAD ALI? MR G. 2016. Location: PCYC Blacktown, Sydney, Australia. #muhammadali #restinpeacemuhammadali #ripmuhammadali #ripmuhammad #boxinglegend #floatlikeabutterflystinglikeabee #tributeart
State side since last week, Mr. G's artistic tour of the U.S is well underway. On Wednesday he completed another goal of his – to paint a mural of the Oklahoma City Thunder's, Steven Adams. The mural has had Oklahoma buzzing, making news locally and nationally in America.
The Steven Adams mural in OKC is finished. Outstanding work by @WorldofMrG. pic.twitter.com/aRIhiUN1w0

— Adam Howes (@Howsito) June 15, 2016
I first featured G's work on this here website back in 2014, so you can say I've been a fan of his work for some time. For all the acclaim he's received for his Prince and Steven Adams works, I felt it was only right to showcase a work of his from earlier this year that has gone largely unnoticed, the epic Michael Jordan mural you see at the top of the page.
Mr. G was commissioned by the Blacktown Police Citizens Youth Club to create a piece to inspire their many basketball participants; there is no question he delivered on that request. The Michael Jordan mural takes its cues from the famous Nike 'Wings' poster, that adorned bedroom walls and pool rooms from the late 80's onward.

The iconic black and white image of MJ was photographed by Portland based photographer Gary Nolton in 1989 and is considered to be one of Nike's most famous posters. Still available for sale today, the six foot long poster also features a fitting quote from poet William Blake, "No bird soars too high if he soars with his own wings. "
The Smithsonian's National Portrait Gallery take on the poster is telling…
The Wings poster documents a shift in athletes' earning potential from their performance to their endorsement deals; it also marks a historic moment when African American sports figures could serve as role models to all Americans.
If you were going to paint a Michael Jordan mural, you can see why the image on that poster would be high on your list.
The talented Mr. G not only succeeded in nailing the likeness, he also created an epic piece of Michael Jordan art that like all his other work, will stand the test of time.
Tell me you wouldn't want to shoot hoops in that gym while the GOAT watches over you.